Nash Tackle Claw hooks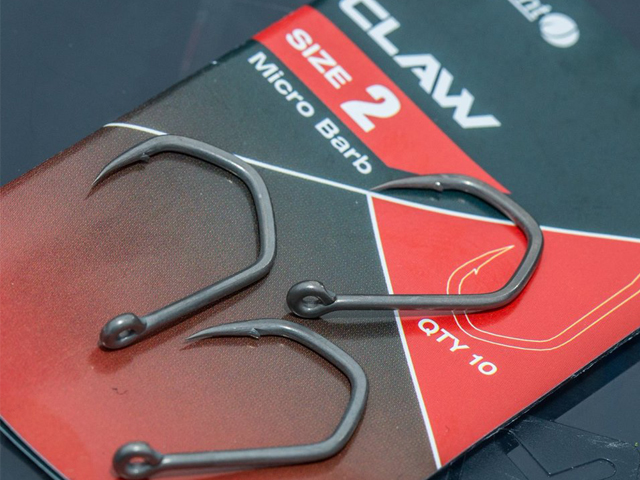 The new range of Pinpoint Hooks from Nash Tackle have certainly got anglers talking. They are due in shops any time now, and although they include updated legendary patters like Fang X and Twister, the one that grabbed my attention was The Claw.
It's radical wide-gape design make it look very futuristic, and when Nash first posted pictures of them on social media they certainly attracted some attention. Its unique apex-angle bend make it stand out from the crowd as there is nothing close to its design in the carp market. In fact, I've never seen anything like it in the angling sector other than some catfish hooks that have an out-turned eye, longer shank and smaller gape.
I must say I absolutely love the name 'Claw'. It makes me think of something with immense grip, and as soon as I saw them I knew where they'd fit into my angling. I was just about to go away to Rainbow Lake for a week where they would be perfect for the brutal snags the venue is known for.
Made from Carbide 617, utilising the latest carbon steel technology, The Claw has been designed to be lighter than many other leading patterns, including those in the original Nash range. They are also 50% stronger, and having bullied several fish out of tough woodwork at Rainbow, including one which battled for well over twenty minutes, they did the job amazingly well. I've also used them in England in some very hit and hold situations, with not one hook pull to report. All of the fish have been well hooked too, and although I've only been using them a short while I can see them playing a big part in my fishing in 2018. I honestly can't fault them.
The Claw hook is available in packs of ten in both barbed and barbless, ranging from a size 10 right the way up to a 1 which is perfect for continental fishing. They are priced at a very respectable £4.99 which I think is great value for money as the most impressive thing to note about them is not one of those I've used so far has showed any sign of wear and tear. You certainly won't need to change these after every fish!
You'll find more details about the The Claw, as well as the other new hooks in the Pinpoint range at www.nashtackle.co.uk. Look out for a long-term review later in the year once I've given them an extensive work out.