Nash Titan T1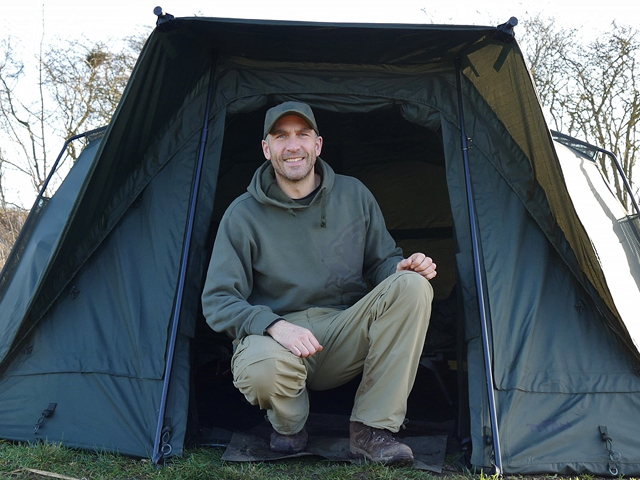 New for 2017 is the Titan T1 bivvy which came into stock in January. I've had mine for a few weeks now and I must say I'm very impressed with it.
Made from an upgraded nylon the first thing I noticed about it was how lightweight it is for such a big bivvy, and having had it out in all sorts of wet conditions it certainly doesn't lose any of its protection.
There is an additional storm peak at the front which extends off the front ribs and into moulded retainers. This is great in rainy conditions as there's no more nuisance drips into the porch when you have the door open, which is especially good when you like to keep your eyes on the water.
A new frame design gives it more space at the back so you can tuck your bedchair well in. I use the SS3 wide boy and there's ample room all around due to an enlarged footprint; it certainly has a less 'cramped feel' compared to the old Titan I was using. Another nice touch is a new style storm pole attachment which means there are no more swan necks at the front. The poles now fit onto a thread which is permanently attached to the front ribs, eliminating the need for swan necks which I confess to regularly breaking through my heavy-handedness.
Perhaps the main talking point of the T1 is the inner capsule which has a built-in groundsheet and mosquito mesh lining as a permanent fixture of the bivvy (it is also available without these extras). This is especially handy if you fish waters that are plagued with rodents, mosquitos and snakes like a lot of overseas venues. I like it because I've got a head like a sieve and regularly forget my groundsheet. I also like the added protection from moisture it offers inside the bivvy. There's less chance of the sleeping bag getting wet from touching the sides, or getting a wet head while sitting eating breakfast. The other good thing about this is there's a light hook in the middle which comes in really handy.
Other features include a full front zip-off infill panel meaning it can be used almost like a brolly. When zipped in, the door can be used for full protection, mozzi style or with a see-through infill. A rain gutter at the top is complimented with two Velcro rod straps (one either side), and at the rear there are two covered zip-down air vents.
The T1 comes with everything you need, including pegs, poles and carry bag. Its tech spec reads: 275cm (w), 135cm (h), 197 (d). It weighs in at 14.9kg with the capsule, poles and groundsheet, but it is possible to buy it without the capsule and groundsheet which weighs in at only 8kg.
All in all, this is a very comfortable bivvy which can be used for both short and long sessions. It is dead easy to put up and offers great all round protection. It's very spacious for a one-man, and competitively priced around the £650 mark.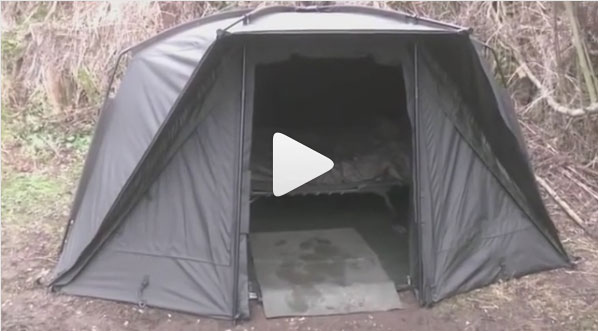 You can watch my short video on the T1 by clicking above image