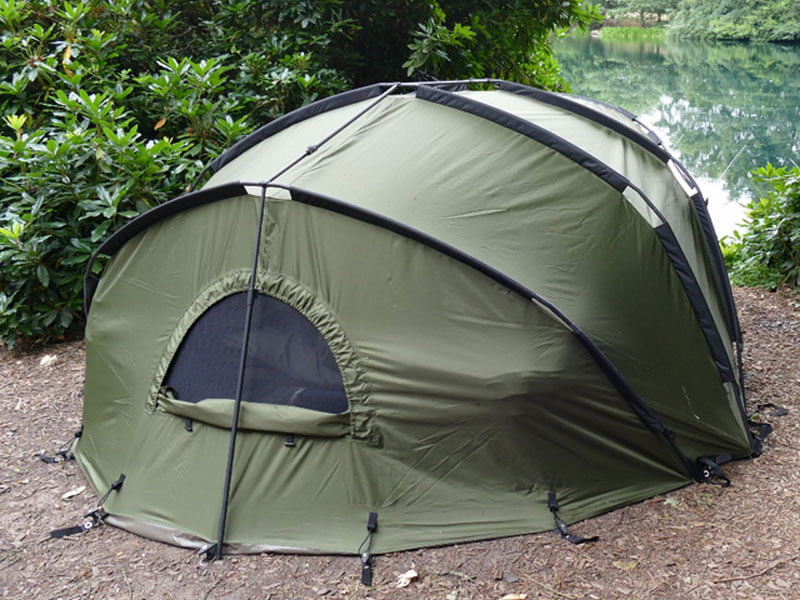 When I was younger I didn't mind being tucked under a low-profile shelter but now I'm approaching middle age (my kids say I'm in it lol) I like having space around me. This is the main reason I was drawn to the HQ bivvy when I joined Avid, as I know a lot of lads who rate it as one of the best when it comes to comfort.
Weighing in at only 6.6kg the first thing I noticed when I was sent this bivvy is how light it is. I was also drawn to how much space the bag has compared to the actual product – there's nothing worse than packing away and struggling to get a bivvy into a tight bag, especially one that's wet and much bigger/heavier than when it was bone dry and packed away!
When fully set up, it's noticeable how big the footprint is too, allowing you plenty of space for a Benchmark X bedchair and a cluster of bags. It's that big you even have space at the front to set up a couple of chairs in the doorway, although admittedly, it is tight if you have the full front zipped in place – but it's certainly OK for just one chair.
It's fair to say the HQ made its name in the industry not just for its space, however, but mainly for being the first bivvy with a built-in twin skin. The inner skin needs clipping in place when first set up, but thereafter it can be left in and packed away easily. This offers mega comfort at all times of the year, especially on damp nights when condensation starts settling on the inside. The inner skin boasts neat little pockets for storing items like your wallet, phone and keys, keeping everything tidy. It also has a rear vent window which can be opened and closed from the inside as well as out.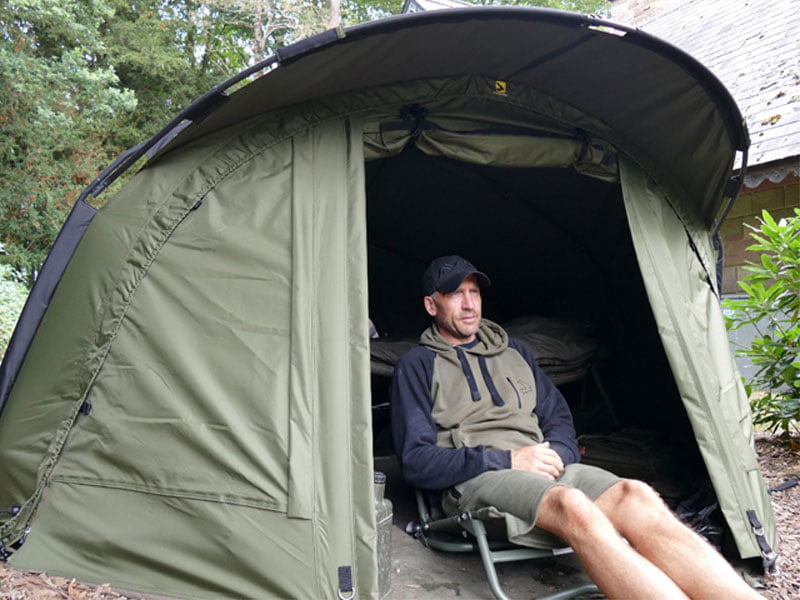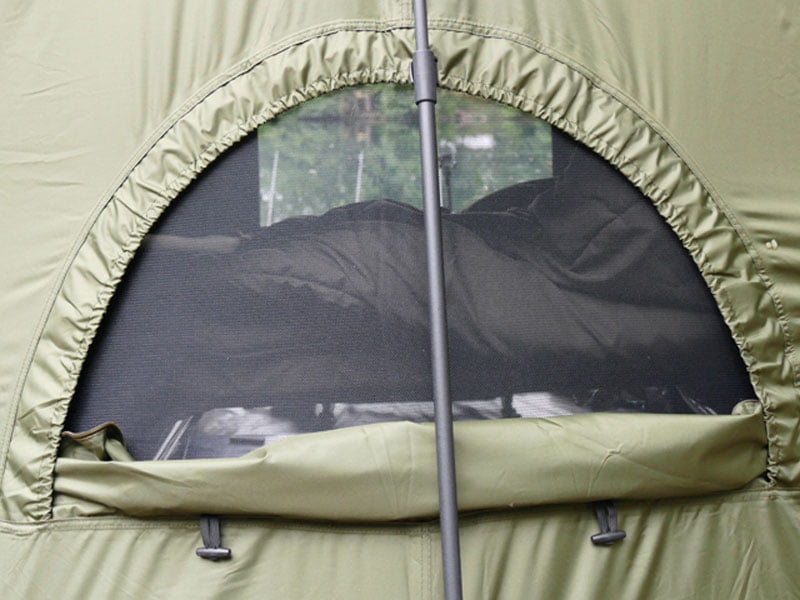 It comes supplied with a heavy duty groundsheet, pegs and tension poles. The latest version also has an extended door peak which gives extra protection at the front, as well as two rod retention bars which clip onto the side and give extra stability in strong wind. It also has lots of set-up options due to its zip-off front panel which has two-way zips, as well as a mozzi or full-infill.
If you're used to fishing in uneven swims you'll also like the pegging options. All around the base you'll find elasticated and ringed loops offering loads of different height and tension levels. On the inside there are also clips to keep the groundsheet in place, all of which are well stitched and hard wearing.
I really like the HQ. Its emphasis is on comfort more than speed/ease of set up. It takes a few goes to get used to setting it up fast (you have to thread the storm peak pole and clip in the groundsheet), but once you've mastered it, it doesn't take long thereafter. The extra effort is definitely worth it though, as once it's all in place, this bivvy offers great protection and bags of room.
It measures 260cm wide, 140cm height, and 245cm across the diameter.