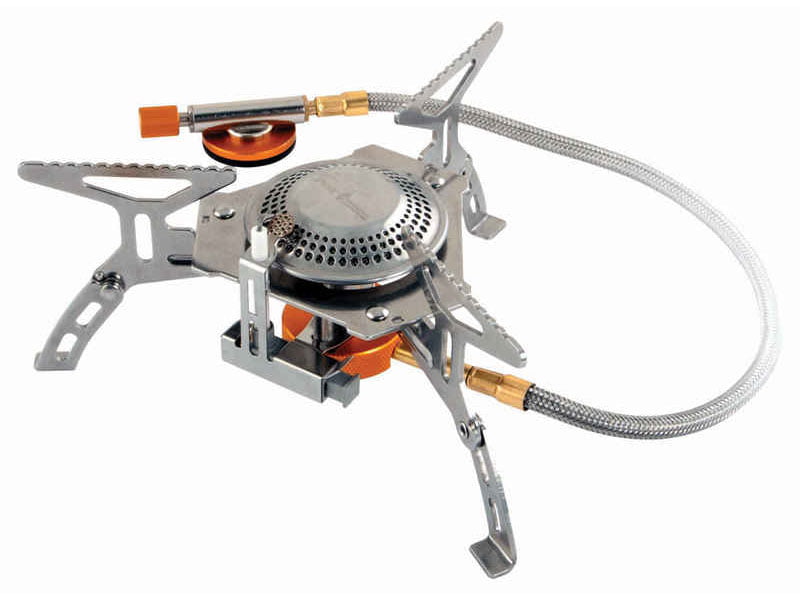 As soon as Fox launched their cookware range, I was immediately drawn to the Standing Stove. Supplied in a bright orange, hard plastic box it is very easy to locate in your rucksack or carryall, but what stands out most about this product is its build quality. It is made from a heavy duty stainless steel and, compared to other models I have used, I get the feeling that this one will last me a lot longer than others have.
It features a folding design which clicks into place, making it very rigid and suitable for heavy pans. This ensures it can be packed away into a compact size in order to fit into the box. As for the hose, this is made with a stainless webbing and measures over 12 inches, allowing it to fit both the 250g and 450g butane/propane bottles, unlike some models which can only be used with the smaller size as they are too short to deal with the extra height of the bigger 450g.
Last but not least, it features a built-in Piezo ignition (to the non-technically minded, a push button starter). To a non-smoker like me, this is such a handy little thing to have because I frequently misplace my lighter.
The only negative I can find with this stove is it's slightly heavier than other models I've used. Having had a few cooking mishaps over the years, however, I definitely favour the sturdier type over the lightweight ones as they are definitely much safer. This model therefore comes very well recommended.
They are available from all Fox stockists, RRP £29.99.